Charlottesville Earth Week Events:
Charlottesville Earth Week Poster Contest Awards!
Thursday, April 24, 2014 at 6:00 PM

Earth Week will hold an award ceremony to announce the winners of the 2nd Annual Eco Fair Artwork Contest. Charlottesville City School students, grades K-12, were invited to submit artwork to be displayed during the Republic Services EcoFair on April 27 at the Main Street arena. More than 1,000 entries were received, and two winner per grade level will be announced, with a $50 first prize and a $20 second prize.
Main Street Arena on the Charlottesville Downtown Mall
A solar powered venue!
Bringing it Home (Film Screening)

Thursday, April 24 from 7:00 PM to 8:30 PM

Join us for a screening of an award winning documentary about a father's search for the healthiest building materials, which leads him to the completion of the first hempcrete house in the US. Hemp mixed with lime is a non-toxic, mildew/fire/pest-resistant, energy efficient building material. The drawback - industrial hemp is currently illegal to farm in the US. Come be inspired and learn more about sustainability, healthy houses and a greener future for America. Learn more at www.bringingithomemovie.com

Film followed by discussion
Free Parking, $5 at the door (proceeds go to Virginia Industrial Hemp Coalition)
C'ville Cofee, 1301 Harris Street, Charlottesville, VA

Contact Joni at 978-857-1508 or Jason at This e-mail address is being protected from spambots. You need JavaScript enabled to view it with questions
Film Trailer: http://vimeo.com/58996047

Fire Your Dryer!
Friday, April 25, 5 - 7 PM
Transition Charlottesville is holding a Clothesline Party to launch their campaign to encourage more line drying. They'll have BENT Improv, the Green Grannies, clothespin games for kids, a raffle to win an umbrella drying rack, and the chance to make your own laundry soap. Come by and discover how easy it is to harness free, renewable energy!
Downtown Mall Central Fountain

Get updates and more info here: https://www.facebook.com/events/297727867051785/
 
Rivanna River Sojourn

Sat, April 26 8:30 AM - 1:30 PM
Annual Rivanna River Sojourn, a professionally guided paddle down the Rivanna River from Crofton to Palmyra. Hosted by the Rivanna Conservation Society and Blue Ridge Mountain Sports. Transportation, guides, safety measures, drinks and snacks will be provided.
$35 Adults - $25 Child (under 12)

Register and get more info:
www.rivannariver.org
434-97-RIVER
This e-mail address is being protected from spambots. You need JavaScript enabled to view it
Rivanna Water and Sewer Authority Public Tours (Go X-Stream Makeover Event)

Sat, April 26 10:00 AM, Second Tour at 1:00 PM
Wonder where your wastewater goes? Come to one of 2 public tours of the Moores Creek Wastewater Treatment Plant.
695 Moores Creek Lane, Charlottesville (Woolen Mills area)

Register and get more info:
www.rivannariver.org
434-97-RIVER
This e-mail address is being protected from spambots. You need JavaScript enabled to view it




Riparian Buffer Planting and Invasives Removal (Go X-Stream Makeover Event)

Sat, April 26 10:00 AM to 2:00 PM
Join the Master Naturalists in removal of invasive plants and replacement with native species.
Quarry Park - Off Monticello Ave (Rt. 20 South)
Turn right on Quarry Park Road at the southern edge of Charlottesville near the intersection with Rt. 64.

Register and get more info:
www.rivannariver.org
434-97-RIVER
This e-mail address is being protected from spambots. You need JavaScript enabled to view it
River Cleanup (Go X-Stream Makeover Event)

Sat, April 26 10:00 AM to 12:00 PM
Help clean up the Rivanna River! This cleanup will take place at Quarry Park on Moores Creek in Belmont. Trash bags, gloves, water, snacks and some tools will be provided. We ask that you wear long sleeved shirts, long pants, closed toed shoes, and a hat.
Meet at the Rivanna Trails Foundation's Shed.

Register and get more info:
www.rivannariver.org
434-97-RIVER
This e-mail address is being protected from spambots. You need JavaScript enabled to view it

Fluvanna County Earth Day Event

April 26 from 10:00 AM to 2:00 PM
An outdoor Earth Day Celebration at Pleasant Grove in Palmyra, organized by the Fluvanna Master Gardeners.
Pleasant Grove Park, Thomas Jefferson Pkwy, Palmyra, VA, 22963

More details and updates:
http://www.fluvannamg.org/events/earth-day-at-pleasant-grove-in-palmyra-save-the-date/



EcoFair - presented by Republic Services
Sunday, April 27th, from 11 AM to 5 PM at the Main Street Arena in Charlottesville.
There will be music, workshops, kids activities, and delicious food! Every environmental non-profit and sustainable business in the area will be there, so its sure to be a great opportunity to learn about environmental topics and meet the people engaged in them. We are also showcasing several alternative fuel vehicles in our first ever "Green Auto" section!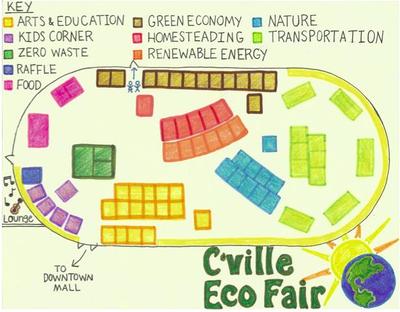 This year, we are introducing "clusters" based on different environmental topics. Interested in Renewable Energy? We've got five companies (including our sponsor Sigora Solar) so you can get answers from people who work in the field.

 Prefer using Arts and Education to make change? We've got a poster contest (its the yellow wrapping around the right of the map), as well as a wonderful selection of organizations and businesses who are sure to be a treat for the eyes, mind and soul.


The Acoustic Music Lounge is also new, and features handmade patio furniture from Cloud Cabin Arts. It will be a laid back jam session with appearances by The Winterline, E. Malia and the Corn Buskers, Tyler Dick, and other special guests!

We're also really excited to introduce "mini-workshops" throughout the day. Every workshop will be around 30 min long, and if you miss the first one don't fret, the whole schedule is repeated later in the day.

Here is the workshop schedule:


11:00 & 2:00
Better World Betty
Becoming an Eco-Conscious Consumer
Homesteading Workshop Tent

11:30 & 2:30
Living Sky Foundation
Earth Allegiance Collaborative Art Project
Arts and Education Workshop Tent

12:00 & 3:00
Edgecomb's Imported Auto
Car Maintenance for a Greener Treadprint
Edgecomb's Tent, Transportation Cluster

12:30 & 3:30
C'ville FoodScapes
Edible Landscaping 101
Green Economy Workshop Tent

1:00 & 4:00
Charlottesville Earth Week
Storytime with Megan McDaniels
Kids Corner Tent

1:30 & 4:30
Appalachian Voices
How to Write Letters and Influence People
Nature Cluster Workshop Tent

--

A big thank you to our amazing and diverse list of sponsors, be sure to check them out:
Republic Services
Sigora Solar
EdgeCombs Imported Auto
Living Sky Foundation
Relay Foods
ReThreads
RideShare
Wimsaur Creations
The 2013 Eco Fair was held on Sunday, April 21.
Details about everything that happened during last year's Eco Fair can be found here.  
Stay tuned for other events that Earth Week will be sponsoring during the year!